A1 TDB Alcohol Replacement Fount Solution
A1 TDB Alcohol Replacement Fount Solution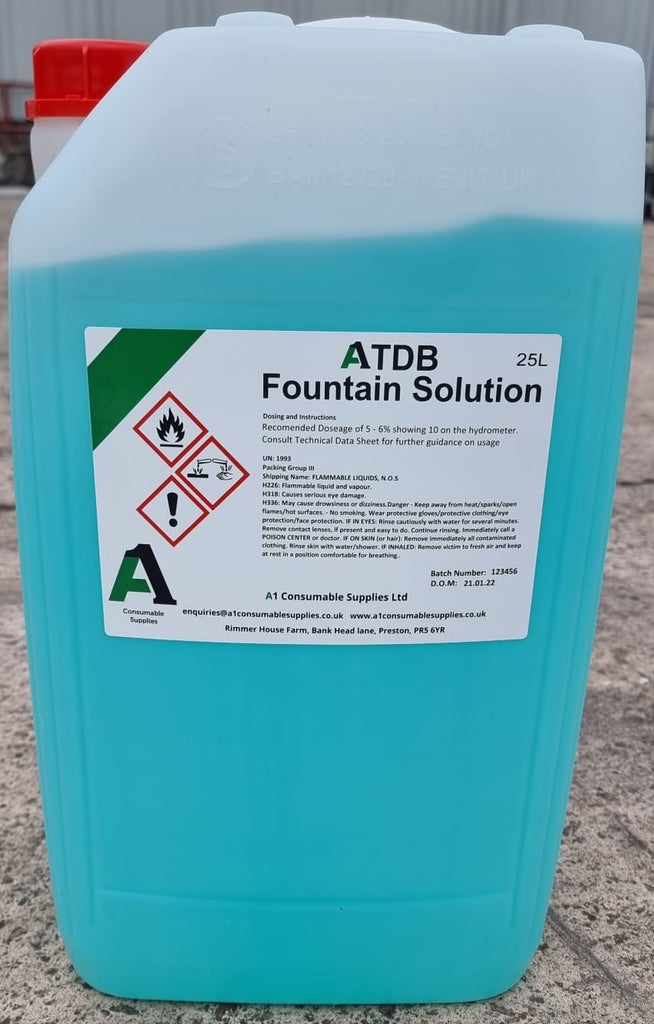 A1 TDB Fountain Solution
Utilising new technology and raw materials TDB Fountain Solution is a damping additive used in Conventional & UV lithographic printing.
TDB Fountain Solution has been developed specifically to reduce damp setting and therefore ink usage and to reach faster press balance and stability.
Benefits:
Ability to reduce Damp & Ink usage by up to 20%

Sharper dot and lower dot gain
Improved lustre with Conventional and UV Metallics
Reduces picture framing & piling

Faster Start-Ups & Colour Balance

Reduced make -ready time and reduced material waste

Improved plate protection and reduced ink fly
Excellent results on Cold Foil applications
Features:
Combination of 50% Normal Propanol 50% Fount Mix
Normal Propanol higher flash point 12°C → 23.5°C  
Increased duration between tank drops
Improved Press Balance & Stability
Reduced chemistry consumption compared to traditional IPA & Fount mix
Recyclable container service
Tank Audit & Testing
Based on the gas extraction principle we use a PitSid measuring device with a special gas sensor which determines the alcohol concentration in evaporated dampening solution. Using this measured value, the alcohol concentration in the dampening solution sample is calculated under consideration of calibration formulas and the sample temperature and is displayed.
Recycling
The pressure on companies to move away from one use plastic is increasing, even more so with the introduction in April 2022 of a new tax on manufactures and importers of plastic materials. Typically, a product made from plastic is often not recycled itself, it is the reason there is a need to reuse plastic where possible before submitting to landfill.
IPT offer a scheme where containers can be reused on a re-cycle scheme.
Case Study Using A1 TDB Fount Solution.
Printing Company X – October '22
Company X runs a KBA 106 multi-unit press which is in very good condition; running conventional Low Migration inks
Savings and KPI increases seen with TDB Fount Solution:
Comparing the usage from the existing fount system, usage was approx. 34 x 25Ltrs per month, now reduced to 16 x 25Ltrs per month.                                                                                  
Reduction in plate scratches
Reduction in Ink Fly meaning savings on general cleaning products and time.
Reduced ink filter replacements.
Reduced picture framing meaning fewer blanket washes, savings on wash spirits, wash rolls and reduced blanket usage. Impregnated wash rolls usage reduced from 10 boxes per month to 5 boxes per month.,
Approx. 15–20% reduction on make-ready substrate.
Approx. 20% savings on ink usage.
In conclusion, circa annual cost saving of £75000.